CURRENT CE WORKSHOPS
APP is Approved by the American Psychological Association to sponsor continuing education for psychologists. APP maintains responsibility for this program and its content.
Greetings!  We have missed seeing all of you in person (and hope you have missed us too)!  We hope you and your loved ones have been sustained by health and resilience through these months of uncertainty and hardship.  Thank you for your patience and understanding with us as we have looked at options for offering members the workshops that have brought us together for many years now.
Well, we have some good news!  We know that you will be excited to learn that APP Workshops are coming back in October 2020.  Mark your calendar now for workshops on the following dates (all Sundays from 9 AM – 12:15 PM):  October 18 & November 15, 2020 and February 21, March 21, April 18, and May 16, 2021.
While we won't be meeting in person, we are preparing a digital platform for us to convene online with a live presenter.  The collective minds of the Board are finalizing these plans and we need the help of members who have experience with using digital platforms to offer continuing education.  Please reach out to me or another member of the Board if you can assist in any way or have suggestions for continuing to grow APP.
Meanwhile, we will be updating the website APPonline.org with the details for renewing your membership and registering for a law and ethics workshop in October and a cultural diversity workshop in November.  We plan to invite some of the speakers we missed from March through May 2020 to present to us in 2021.  We thank you again for your patience, understanding, and commitment to APP.
Sincerely,
Stan Kulewicz, Ph.D.
President, APP
Who we are
A resource to our community, promoting human welfare.
The Association of Practicing Psychologists: Montgomery – Prince George's Counties (APP) works to advance the practice of psychology, to be a resource to the community and to promote human welfare.

APP tracks legislative issues and governmental affairs bearing on Montgomery County and Prince George's Counties and informs its members when serious concerns arise. APP works with the Maryland Psychological Association regarding state-level issues.

APP members are practicing psychologists who are licensed in Maryland and who reside or practice in Montgomery and/or Prince George's Counties. APP takes pride in offering its members, affiliates and other mental health professionals high quality continuing education programs at a reasonable cost. The American Psychological Association (APA) has awarded approval for continuing education programs offered by the APP. APP continuing education programs meet the requirements for continued licensure established by the Maryland Board of Examiners of Psychologists.
Current Speakers and Presenters
Our presenters deliver a combination of stimulating professional development and collegiality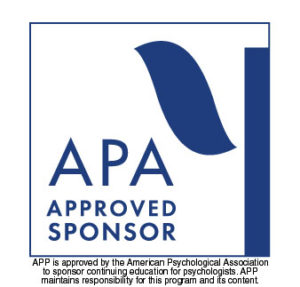 JOIN APP TO GET EXCLUSIVE MEMBER BENEFITS AND DISCOUNTS
Get in touch
Have a question? Send us a quick message and we'll get back to you.